Which Cannabis Innovators Are Growing Billion Dollar Companies?
Artificial Intelligence (AI) technology is working in new ways to help people all the time. AI and cannabis may not seem like a natural fit, but companies like Cannvas MedTech are showing how much functionality AI can bring to the medical cannabis sector.
Specialized cannabis breeding has been happening for decades, but with the advent of legal cannabis, there has been a push to classify the medicinal value of stable strains. There has been limited research done on how cannabis strains treat common problems, and due to the legal status of cannabis in most nations, any sort of meaningful research has been all but impossible.
AI Has a Huge Potential in Medicine
Cannvas MedTech Inc. (CSE: MTEC) is looking at how AI can fit into the medical cannabis sector. They recently signed a letter of intent with Natures Hemp that would bring big data analytics to Natures Hemp's business. Natures Hemp is a biotechnology firm that is working on how to best fully deliver cannabis' potential, and allow people to get the most from a plant that could change the way many medical conditions are treated.
AI is a powerful tool that can help to speed the adoption of both strains and other cannabis products that work and avoid any potential pitfalls. For now, the data that will be available to companies like Natures Hemp will come from sources outside of the established medical community, but in the future, their databases could play an important role in AI-driven meta-analysis.
Shawn Moniz, the CEO of Cannvas MedTech, had this to say about their new partner, "Natures Hemp is on the leading edge of the emerging hemp economic eco-system and recognizes the importance of consumer data and both market and industry analysis as a core component and key driver of its business models," and that, "Truly knowing your customer is invaluable when applying a targeted approach to high-value customer-based segments within your industry. Companies like Natures Hemp will benefit from partnering with our data and analytics division by using industry insights for planning and product development."
Namaste Leads the Way
Namaste Technologies (TSXV:N) Uppy Cannabis Journal could be the beginning of a new form of medical research. Until now, research into the effects of medicinal products has taken place under laboratory conditions and has cost a lot to undertake. The Uppy app changes this dynamic and allows cannabis users an open forum to report their experiences in a way that can help others.
The idea behind Uppy Cannabis Journal is simple; allow medical cannabis users to share their experiences with specific cannabis strains, and then use that information to help other people choose the right strain for their needs.
At the moment Namaste has a database of more than 1.5 million users to leverage the growth of Uppy. With the kind of information that a platform like Uppy is capable of creating, the overall interest in Namaste is likely to grow. The legalization of cannabis in Canada is nearly certain to attract new patients, and this could create a virtuous cycle for platforms like Uppy.
Chad Agate, the CTO of Namaste has this to say about Uppy's potential, "The coming launch of Uppy Cannabis Journal represents the next phase of our integration of the Findify AI team into the Namaste platform core – applying machine learning models to help our users have the best cannabis experience in the world. I'm very proud of our world-class team of engineers and designers. We are spending time looking at how we are using technology today during interactions with our customers and focused on how the value of that moment could be increased."
On August 22, 2018, Cannvas MedTech and Namaste Technologies announced the signing of a definitive revenue share partnership agreement where the two companies will share revenue generated through co-branding and marketing efforts between Namaste's medical cannabis patient portal, NamasteMD and the Cannvas.me cannabis education platform.
These two examples show the kinds of synergies that already exist in the emerging cannabis tech space, but there are probably many, many more. The upcoming Extraordinary Future 18 conference is one of the best places to meet with companies that are working with AI, ML and numerous other cutting-edge technologies, right in the middle of downtown Vancouver.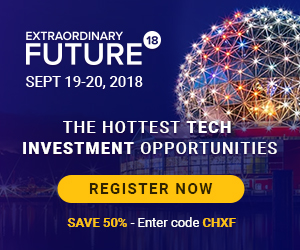 Extraordinary Future 18 will be happening on September 19th and 20th, at the Vancouver Convention Center East. Register now and save 50% with promo code "CHXF" plus meet with leading tech CEO's, and listen to presentations from some of the brightest minds in technology!